Now Booking!
Custom Designs
Artist Merch Store
Lucid Tattoo Company
215 E. Daily Dr #23
Camarillo, CA 93010
(Upstairs)

Since 2012
HOURS: By Appointment
PHONE: (805) 987-3050
CALL FOR WALK-IN AVAILABILITY
FRIDAY THE 13th in OCTOBER!!!
Join the Lucid Crew for a special FRIDAY THE 13th Flash Day celebration! We will have a wall full of themed tattoo designs starting at $50 for little outlines, along with medium and large sized pieces that are also discounted. It's a fun day for clients to collect an amazing tattoo, without the traditional wait time.  Each of our resident tattooers have created original designs that are made to be completed in a single session for a special flat rate.  Clients may also reserve a design for a later date by booking an appointment that day. 
When: Friday October 13th
Time: 11-7pm
First Come, First Served, so get there early for a spot!
Enter As Strangers, Leave As Friends.
3 Resident Artists, experienced in a variety of styles, are here to create the perfect tattoo for you. We know you've got many choices when it comes to tattoo studios in the Ventura County Area, but there's only one Lucid Tattoo Co.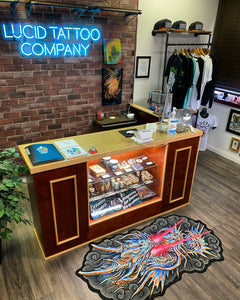 Subscribe to our newsletter
Promotions, new products and sales. Directly to your inbox.